For most of the UK*, we offer you a choice of delivery service partner and free delivery on orders of £29 or more, as follows: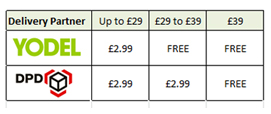 Orders are processed and dispatched within 24 hours and our delivery service partners provide online parcel tracking facilities, active from 2-3 days after dispatch.
---
Possible delays to your zooplus delivery
Due to very high volumes of parcels currently being processed in our warehouse, we are sorry to advise that some customers are experiencing delays of 1-2 extra days before their parcel arrives.
Please bear with us while we do everything possible to return to our normal levels of service. In the meantime, we would like to apologise for any inconvenience this may cause you.
If you have any particular concerns, please contact our customer care team via the usual methods.
---
Choosing your Delivery Partner:
By offering you a selection of delivery partners, we aim to ensure that – whatever you order and wherever you are – your parcel reaches you in the most efficient way possible.
The main advantages of our standard delivery partners are as follows:
Yodel
• Generally quickest delivery
• Delivery on Saturday
• Free from just £29
DPD
• Advanced notification of the date of delivery
• Notification on morning of delivery with a 1 hour time slot
• Option to change date and delivery instructions "in-flight"
Please note that for some deliveries, such as bulky goods or remote areas, we automatically select a partner who is best suited to handling your parcel(s) and so are not always able to offer you a choice.
Delivery Times:
Delivery to UK mainland addresses usually takes place within the specified number of days below (excl. Sundays & Bank Holidays). This may vary depending on availability, payment method, location and other factors beyond our control. For bank holidays, please allow an extra day.
Ordered on
85% of our parcels
are delivered between
Earliest Delivery Day
(when ordered before 4pm)
Monday
1-3 days
Tuesday (next day)
Tuesday
1-3 days
Wednesday (next day)
Wednesday
1-3 days
Thursday (next day)
Thursday
1-3 days
Friday (next day)
Friday
1-3 days
Saturday (next day)
Saturday
2-3 days
Tuesday (next week)
Sunday
2-3 days
Tuesday (next week)
Bulky goods are subject to special shipping terms and customers are advised that these items may take longer to arrive than the estimated delivery times above and may arrive separately. These goods are only dispatched with special delivery service providers and are therefore not available in all countries. This information is included in the product description. We apologise for any inconvenience.
Shipping Costs:
zooplus offers International shipping to the countries listed in the table below. However, we are unable to ship to Military Addresses, and apologise for any disappointment. Should you require any further information, please feel free to contact our Customer Service Team.
*A minority of GB postal codes, the Highlands, UK Islands, Channel Islands and Northern Ireland do not qualify for free shipping. The exact cost of delivery is determined by your Postal Code: This can be checked using the tool below and will also be visible before checkout.